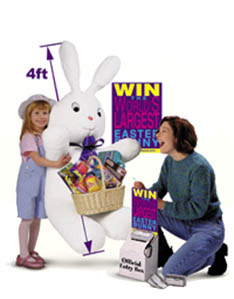 Giant Easter bunny + basket www.thankem.com
Want to make a big impact this season? Baxter the Bunny and toy-filled Easter Basket in-store sweepstakes giveaway. He is over 4 feet tall! Comes with 60% licensed brand names toys and all contest materials needed to run an in-store giveaway promotion. One ballot box, 500 entry tickets, 1 poster announcing the event. Great for drawing in walk in traffic, handing out to groups and organizations. Can be used for fund raisers, client or customer gifts, order soon to get yours for your spring promotions. Easter is just around the corner so hop to it and order yours today! Call 877-351-2627 to order. Order by March 10 for ground shipping.
144.00 ea + shipping for 1; 3-11- 138.00 ea, 12 or more 134.00 ea + shipping.
Deluxe Baxter 194.00 ea + shipping for 1; 3-11- 185.00, 12 or more 179.72 + shipping.
877-351-2627 info@thankem.com